Allah Muhammad Jihad, Derka Derka!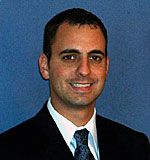 Ha, ha! No, no, no. This is not the twentieth hijacker. This is Burger, a member of the crew who is tying the knot tomorrow. Dun, dun, dun. The second one bites the dust! I can't be there for the galla event so I figured I'd pay him a comedic tribute here. Hermo, Monkey and The Cop will be making the trek to Bingo for the festivities. Looks like its gonna be a hot one for a tux.
Good luck, Burger. Stomp that glass on the first try, homeboy! Peace.
SYS