Who knew Bondage had an evolutionary link?
When you have trouble explaining the sources for mundane human behaviors, I say you can always look at the creatures we evolved from for the answers: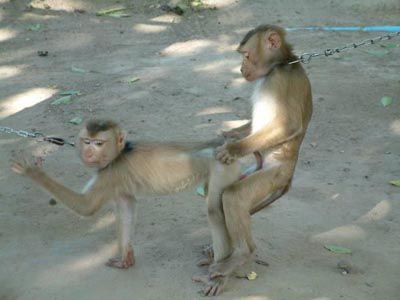 You gotta love...
the male's technique of placing his feet on top of the female's feet. ("Where do you think you're going, baby?" LOL) Doesn't seem like she is in all that much of a hurry to go anywhere, so I guess he is merely being thorough. Telling from the expression on her face, he still has a lot to learn.

I was surfing around the other day during a lull in the action (in other words I was waiting to switch loads of laundry). I found some other pictures that made me chuckle a bit.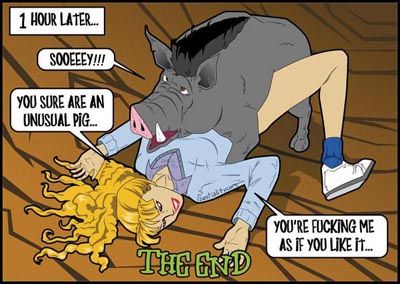 I would have enjoyed reading the rest of the cartoon strip that this cell came from. With quality dialogue like that I am sure it would have been a blistering read! Why is it the pig that says, "Sooeey!" (?) Don't people say 'Sooeey' thinking the pigs will come running? Some pigs do come running but I think it is just their way of making sure the farmer finally shuts his freakin' pie hole with all that sooeey screaming. And why is the chick surprised he likes it? He knows a good pig when he sees one too!

This one is pretty neat for the fact that I would love to have the prop in my office.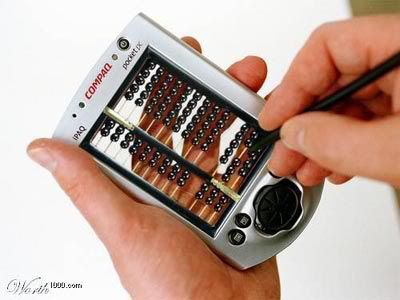 Then when people would catch me hunkered over my desk, really involved in my work they would take a look at the "iAbacus" and know I was truly old school. Hell, if mathematicians can actually do calculus on an abacus, why the hell don't they make an electronic abacus. I'm sure Belgium wasn't the first country to come up with he idea! ;)

SYS