Firing Up The Old Shoe Saw
What happened today? This week was probably the week from Spring Heaven and today it is a bit raw outside. My mind was on taking my rig out for an hour or two while the finishing skim of spackle set and the painter's caulk cured. But when I went out it was not the best day after all.
I don't mind riding in raw weather, but the sky looks like we might get a few April showers. Riding wet trails can be kick ass but riding in the rain can be monkey balls. Especially when freeriding. Especially cause I am like Gary Busey - I don't like helmets!

So I decided to do some cleaning to the rig and see what I might upgrade this summer. My rig is presently built more for free riding. But at five inches front and rear it is a timid freerider at that (perhaps a bit on the heavier side too). I think I might acquire a new frame this summer and basically transfer some of the more burley parts to that frame while trimming down my Jamis: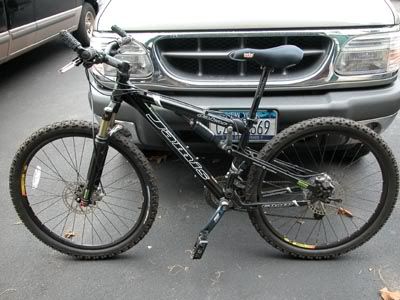 I love when this bike is clean because I love black outs. Although, I think my next frame might either be white/blue or ball burnished, this rig has killer looks to go with its performance. Most of the components are designed for strength rather than shedding grams. At 270 lbs. pounds fully equipt, I put a beating on almost any frame (especially XC specific whips) so strength is good! But as I am gradually shedding pounds now that The Cop, Methodical and I are beating each other up at the gym again I can stand to trim down the Jamis a bit. Besides, becoming a speedster will help shed my remaining pounds a bit quicker. (Actually, I have only about twenty more pounds to go before I start to lose muscle mass; plain and simply put, fuck that! LOL)




One of the first things to go would be the wheel set. I will keep these and use them on the new freeride frame. Lighter wheels make a real difference in the speed of any rig. Plus, wheel sets for XC are getting stronger and stronger and since the Jamis has five inches of travel, the ride will still be plenty plush enough. Next thing to transfer would be the shinburgers (pedals). These are more meant for freeride giving you loose footy for jumping and serious decents. But for XC they are simply over kill. I might slap on a pair of Crank Brothers Egg Beaters! Both the 2ti and sl have no weight restrictions so I'll be in great hands either way.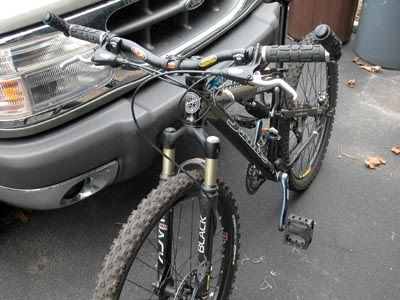 Finally, the cockpit would need some retweaking. The seatpost, handlebar and stem could be trimmed down to save some more grams and keep the steering responsive. Also narrowing the width of the bars would make the rig able to handle tighter single track at higher speeds. Going fast is always cool!

SYS