A Glorious Day That Won't Last Forever
Who knew Mother Nature was such a sultry minx. And a tease as well! Today for LI will be a day of endless sun and rather mild temperatures to peak at near 60 (holy shit, where are my clubs?). Needless to say, I have most windows open in the house to bring in some of this fresh spring air. Although it looks like a neighbor down the street is having their cesspools replaced so I will need to shut the windows soon enough (fuckers!). Why not do it on a cold day when everyone has their windows shut tight. Contractors aren;t always the sharpest tools in the truck.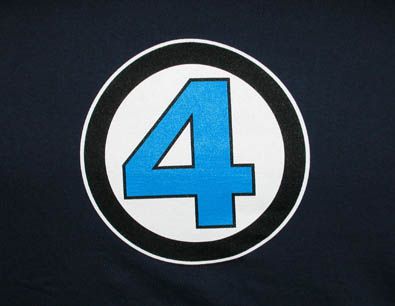 Yesterday, I finally received my vintage Fantastic Four t-shirt which is the bomb. So I will be styling in a major way today when I head out with Monkey.
The World of Tomorrow
has an awesome pic of the Fantastic Four, including Thing wearing my t-shirt. I was going to model my shirt but you may not be able to tell Thing and I apart. LOL
Monkey is taking a cruise on the mean streets on his Burly but I wasn't up for a ride. Since I have been doing a lot of sanding, especially overhead, my shoulders and arms are so spent. I'm just not physically up for a ride today. But that doesn't mean I am wasting away in the house all day. After Monkey gets through with his ride we are gonna head out and chill out.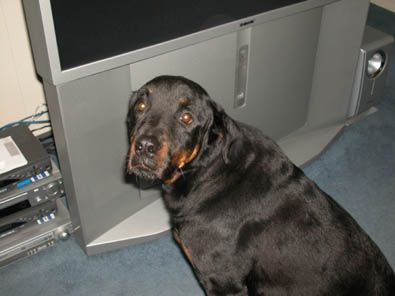 I am a nut when it comes to my dog, Caesar! I whipped out my shirt today to wear and Caesar was all Scooby-Doo like (in other words scared) in the wake of my excitement. (In case you are wondering, I had the groomer trim Caesar's neck hair down a bit to prepare for the spring shed that happens this time of year. Normally his neck looks huge with his usual mane.) To think a Rotty could be such a pussy is beyond me but you would never know if you came knocking on my door. Then the Caesar balls inflate to mammoth proportions leaving most people wishing they had a Taser. What cracks me up the most is when the front door is open with just the storm door closed. My storm door is a solid glass-style door. So when strangers come walking up the sidewalk, the first thing they see is a full view of Caesar barreling towards the door growling and barking. As soon as they enter the house Caesar turns into puppy mode again and thinks he's a lap dog. Yep, that's my guard dog. ;)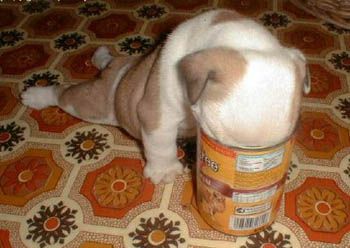 This reminds me of Sucker-free Caesar when he was a puppy. I imagine Caesar as a puppy again from time to time. One thing I wouldn't do over again was feed him anything he wanted (I tend to spoil those I love), anytime he wanted it. I know there was a definitive reason Caesar grew to 140+ lbs. Right now after a year of dieting, Caesar is at a lean and mean (yeah, right!) 100 lbs. Now to work on moi. Now that I have been back to lifting rather consistantly I gained 7 lbs. Shit!
SYS